Mark Eisenman Quartet
Saturday, September 17th, 8:30 to 11:30 pm.
Cover charge: $16/person.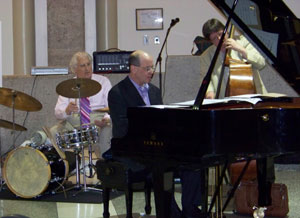 Mark Eisenman Quartet
Mark Eisenman is one of Toronto's best-known, in-demand Jazz pianists. He has performed as a professional Jazz musician for more than 25 years, and he has toured with a number of other greats in the Jazz world, including Nat Adderley, Ed Bickert, Rob McConnell, Sam Noto and Pat LaBarbera. He is a superb performer, and a fabulous Jazz musician.
Some highlights:
1999: Acoustic Pianist of the Year Award from The Jazz Report
2003: When lengendary drummer Jimmy Cobb was in Toronto, Mark ceized the opportunity to make an exceptional recording session; the result is the album "Sweet and Lonely" which features Mark on piano, Jimmy Cobb on drums and Pat Collins on bass.
Mark performs with a number of fine musicians, which often includes Pat Labarbera, John Macleod, Steve Wallace, and others. As is usually the case, Mark will draw together a break quartet for the evenings performance.
Come join us for a night to remember!
For more information about Mark Eisenman, please visit:
http://www.cornerstonerecordsinc.com/pages/artme.html