When:
April 4, 2019 @ 8:00 pm – 11:00 pm
2019-04-04T20:00:00-09:00
2019-04-04T23:00:00-09:00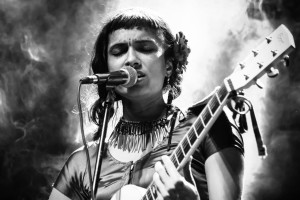 "Alysha's music is the sound of summer. It's pop, a bit jazzy and bit bluesy. That's what makes it fun.' – James Keelaghan
Twice Juno Award nominated singer-songwriter, producer and community organizer Alysha Brilla is a critically acclaimed Indian-Tanzanian Canadian artist who just released her third self produced album, "HUMAN". Brilla's new music draws on the influences of her unique background. An ancestral journey to her father's homeland in 2015 delivered inspiration for Brilla to write and produce the 10 new songs on "Human"; a lyrically timely record blending Indian & East African sounds with a contemporary aesthetic. The first single from this newest release, "No More Violence", is currently charting in the top 3 of the CBC Top 20 Countdown.
Born in Mississauga, Ontario to an Indo-Tanzanian immigrant father and a European-Canadian mother, Alysha Brilla grew up in a household with unique discourse around the arts and social politics. Brilla is an arts educator; frequently conducting music and social justice workshops in elementary schools across Canada and internationally.  TEDx speaker and Oktoberfest Woman Of The Year Arts & Culture Award recipient, Brilla has been a mentor for YWCA's "Rock Weekend", helping marginalized female youth develop social skills through music. A multi-racial child of the Indian diaspora, Alysha's art aims to unite people through the Canadian cultural kaleidoscope and bring light to social inequity issues in Canada and abroad. Her music and workshops feature strong themes of cultural diversity, gender equality and inclusivity.
Alysha Brilla – vocals, guitar
Alison Young
Marie Goudy, – trumpet
Donovan MckInley
Chris Rouse
Da-Rell Clifton.
Here is Alysha with "Rescue"
This performance is part of the WOMEN IN JAZZ series, sponsored by DIVA INTERNATIONAL, makers of the Diva Cup