When:
May 18, 2018 @ 8:30 pm – 11:30 pm
2018-05-18T20:30:00-09:00
2018-05-18T23:30:00-09:00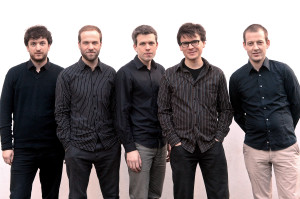 Subtone is a rare phenomenon in today's jazz world. Founded in 2005 in Berlin, Germany, the quintet has been playing together for 13 years with an almost unchanged line-up. And that despite the fact that its members are now separated by vast geographic distances with part of them living in North America and part of them in Germany. The pianist of the band is St. John's, NL based Florian Hoefner who is known to Canadian audiences through the work with his quartet and solo. The other ensemble members are Magnus Schriefl on trumpet, Peter Gall on drums (both from Berlin, Germany), Malte Duerrschnabel on woodwinds (Cologne, Germany) and Matthias Pichler on bass (NYC).
With early invitations to prestigious festivals like the Bohemia Jazz Fest in the Czech Republic and Jazz Baltica in Salzau, Germany Subtone quickly established themselves as one of the most sought-after jazz ensembles from Germany. Today the five can look back on 4 record releases on labels including ENJA Records and Laika Records and concerts on 4 continents including dates in the US, Colombia, Ecuador, Ethiopia, Turkey and of course many European countries. This tour will mark their first visit to Canada.
The individual members are all accomplished performers. Collectively, they have won prestigious awards like the US National Trumpet Competition (Magnus Schriefl), the Bass Competition of the International Bass Convention (Matthias Pichler) and the Stingray Rising Star Award (Florian Hoefner) and have collaborated with artists and groups like the Kurt Rosenwinkel Trio, Seamus Blake, Joe Lovano, Dave Liebman and Randy Brecker. As a group, Subtone is also the winner of the Jury and Audience Award of the International Jazz Competition "Tremplin Jazz d'Avignon" in France.
With their own imaginative compositions, the five artists offer an inexhaustible selection, from voluminous big-band sound to a bare-essential chamber music approach. In addition to the apparent mastery on their instruments, it is above all the implicitness with which they communicate that is so striking.
What makes Subtone stand out from other ensembles is the impressive artistic connection among the five musicians. The listener perceives this intense communication and fundamental understanding among all members of the band in the very first notes.
MAGNUS SCHRIEFL – trumpet, flugelhorn
MALTE DÜRRSCHNABEL – woodwinds
FLORIAN HOEFNER – piano
MATTHIAS PICHLER  - bass
PETER GALL  – drums

We acknowledge the support of the Canada Council for the Arts, which last year invested $153 million to bring the arts to Canadians throughout the country.
Nous remercions le Conseil des arts du Canada de son soutien. L'an dernier, le Conseil a investi 153 millions de dollars pour mettre de l'art dans la vie des Canadiennes et des Canadiens de tout le pays.

The Florian Hoefner Quartet with "Eleanor Rigby"