When:
November 16, 2017 @ 8:00 pm – 11:00 pm
2017-11-16T20:00:00-10:00
2017-11-16T23:00:00-10:00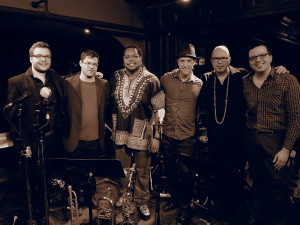 Join us for a very special show, featuring not only Jason's one and only Funktet doing a full live show, but the launch of the new CD "The Jason Raso Funktet Live At The Jazz Room"!  Recorded live earlier this year, the new album brings together the same Funktet that will be performing at this show:
Alexis Baro (trumpet)
Brent Rowan (sax)
Thomas Hammerton (keyboards / piano)
Tyler Wagler (guitar)
Adam Bowman (drums)
Click here to see and hear "Loaned Veil" recorded as part of the Funktet Live At The Jazz Room! 

Over the past two decades, eight albums and countless live performances, Jason Raso has shown that he not only has the skills to pay the bills, but more often than not, enough musical currency left over at the end of the month to make good on the debts other musicians have welched on.
A Hartke Canadian Artist Search Winner (2010), Raso is a master of the four and six-string bass guitar whose music has been heard on public radio and jazz stations around the globe. And because seeing is believing, his virtuosity has also brought him in front of the camera to play for television viewers across Canada.