When:
January 11, 2019 @ 8:30 pm – 11:30 pm
2019-01-11T20:30:00-10:00
2019-01-11T23:30:00-10:00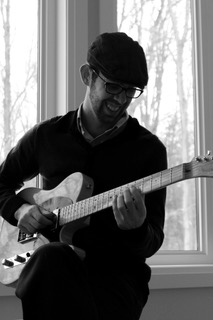 Matthew is in the final stages of completing his PhD, focusing on jazz and popular music. He has been recognized for his playing, and has had the opportunity to perform in a wide range of settings. He has performed with notable musicians including Barry Elmes, Lenny Boyd, Lorne Lofsky and Ian Bell. Matthew can be heard in collaboration with other artists and bands such as Trombonist Ron Westray on "Jimi Jazz and Magisteria"; performing live with The Sandplain Pickers, with The Erie Travellers on "Waiting," "I Want to Look at the Moon" and "Verbatim, and with a new band called The Tree Line. Matthew's own release, "6th Line," features distinguished Canadian musicians Barry Elmes and Artie Roth.
Matthew currently teaches at Wilfrid Laurier University and with private music programs across southern Ontario.
Matthew Rait – guitar
Artie Roth – bass
Barrie Elmes – drums
Kelly Jefferson – tenor sax