When:
December 1, 2017 @ 8:30 pm – 11:30 pm
2017-12-01T20:30:00-10:00
2017-12-01T23:30:00-10:00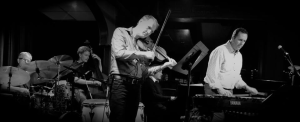 Hailed by The Toronto Star as Canada's Gershwin brothers and with songs "worthy of inclusion in the Great American Songbook," according to CBC Radio, the Breithaupt Brothers – Don (music), Jeff (lyrics) – released the universally acclaimed Just Passing Through: The Breithaupt Brothers Songbook Vol. II on Alma Records in 2014. Brothers Jeff and Don Breithaupt are two musical descendants of "those Breithaupts":  mayors, industrialists, a Lieutenant-Governor, and community builders. While their music is fresh, their songs seem like they were written in a golden age alongside the likes of Gershwin, Porter and Hammerstein.
At two sold-out Registry Theatre concerts this past June, the region was introduced to this warm and sonorous music through the voices of many of the region's finest jazz vocalists and accompanied by the New Vibes Jazz Quintet and the Penderecki String Quartet. At this special Jazz Room presentation, the smooth and theatrical voices of Joni NehRita, Mary-Catherine Pazzano and Derek Hines will be featured in this repeat performance by two of the region's finest ensembles.
New Vibes Jazz Quintet interprets jazz standards with a polished sound and fluid improvisation. Their two percussionists provide an extensive range of rhythmic expression. The combination of vibraphone and violin is not often heard… but what a beautiful sound! They are no strangers to the Jazz Room, always playing to a packed house. The Penderecki String Quartet can usually be heard in chamber music settings all around the world but the Jazz Room performance will be a special treat as they combine forces with their local jazz friends at the Jazz Room.
Jeremy Bell, violin ²
Dan Brennan, bass ¹
Derek Hines, vocals
Jerzy Kaplanek,violin ¹²
Andy Macpherson, vibes and drums¹
Joni NehRita, vocals
Mary-Catherine Pazzano, vocals
Katie Schlaikjer, cello ²
Christine Vlajk, viola ²
John Zadro, piano ¹
¹  New Vibes Jazz Quintet
²  Penderecki String Quartet