When:
April 29, 2017 @ 8:30 pm – 11:30 pm
2017-04-29T20:30:00-09:00
2017-04-29T23:30:00-09:00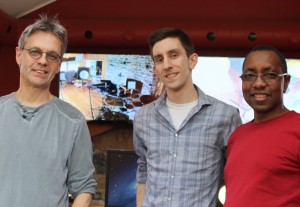 On Topic is a perfect mixer of the maturity that comes from experience and the fire of Youth. Drummer Aubrey Dayle (Vernon Reid, John Popper, James 'Blood' Ulmer, David Murray), guitarist Kim Ratcliffe (Ron Sexmith, David Clayton Tomas) And Bassist Brad Cheeseman (Nancy Walker, Terry Clarke) have joined forces to produce some truly expressive jazz fusion. In short; if you like the music of Jeff Beck, John Scofield, or Mike Stern you will love On Topic!
Their music will caress you with heartfelt melodies, and grooves that will hit you in your gut with pin-point accuracy. As the great Canadian film composer Donald Quan commented; "I love the band. The music is truly satisfying!"
Kim Ratcliffe – Guitar
Aubrey Dale – Drums
Brad Cheeseman – Bass