When:
February 2, 2018 @ 8:30 pm – 11:30 pm
2018-02-02T20:30:00-10:00
2018-02-02T23:30:00-10:00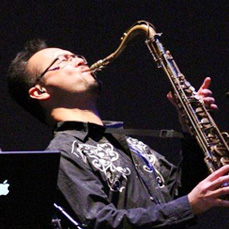 David Wiffen is one of our favourite jazz players in the local music scene–though his musical reach extends far beyond Waterloo Region.  In addition to being on faculty at WLU's music school, he has toured with the Tommy Dorsey Big Band, and the Peter Appleyard Orchestra, also sharing the stage with Aretha Franklin and Nathalie Cole at various times. David can play any style – jazz, rock, blues, and classical music and his muscular, soulful sound makes him the "go to" tenor man in the region.
The band's sound is more electric and funky with electric bass, keyboards, electric guitar and effects on the sax.They'll be playing a mix of originals  and modernized standards with the odd fusion tune.
Dave Wiffen, tenor sax
Larry Larson, trumpet
Dave Thompson, guitar
Thomas Hammerton, piano, keyboards
Matt Lima, electric bass
Peter Grimmer, drums