Dave Restivo, a critically acclaimed pianist and composer, is one of Canada's most respected and sought-after jazz artists.
"I respond in a way that goes beyond category or genre. I have to connect with it emotionally, and I try not to limit what I allow to influence me." – Dave Restivo
A 3-time winner of the National Jazz Awards' Pianist of the Year Award, David was voted Toronto's Best Keyboardist by Now Magazine. Across Canada and on 4 continents, Dave has played with a veritable who's who of the jazz scene.
"…quite simply one of the finest jazz pianists of his generation that Canada can boast of…" -Roger Levesque, Edmonton Journal
The trio provides space and contour that makes the harmonically complex seemingly effortless, and yet they don't hesitate to drive it home with pieces like It's You or No One.
Dave Restivo – Piano
Jim Vivian – Bass
Alyssa Falk – Drums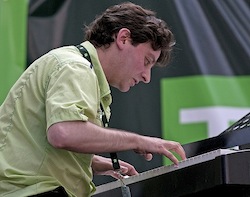 Visit our calendar for details on tickets, show time and our 2012 – 2013 season!