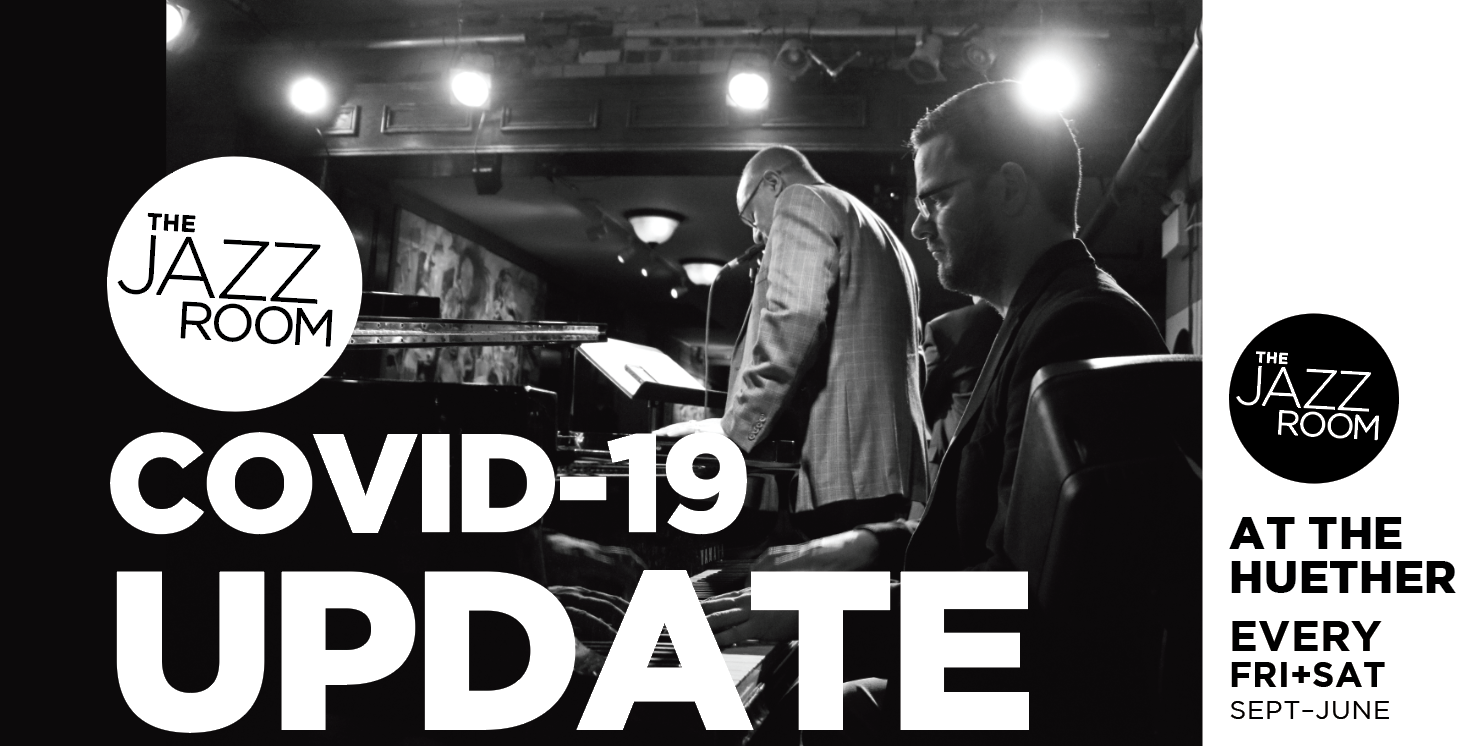 THE JAZZ ROOM FALL 2020 REOPENING PLAN DURING COVID-19
The Grand River Jazz Society is excited to restart its headline music-presentation program (starting the weekend of September 11 & 12). Because of COVID-19 we have had to make some changes to how we operate this season. Recognizing the 'moving target' nature of the virus, the GRJS board will monitor the situation and make adjustments as is prudent/necessary.
Seating
Following the guidelines set forth in Stage Three seating will be limited to the current maximum of 50. Tables will be arranged to allow proper 6 feet spacing between patrons not seated together. Board Hosts and Volunteers will seat patrons at a table matching their party size in the order they arrive. Walking paths will be designated with one-way directionality where possible and otherwise be widened. Please wear masks when not seated.
Regular Shows
For most shows, there will be a single ticket covering the evening consisting of two sets. The first set will start at 7:00 (doors open at 6:00). It will run between 60-70 minutes followed by an intermission. The second set starts at approximately 8:30 and will also be 60-70 minutes.
Special Shows
For performances that are expected to be extra popular, there will be two ticketed seatings for the evening. The first show will start at 7:00 (doors open at 6:00). Shows will run between 60-70 minutes. Patrons will be asked to clear the room at 8:00 enabling the room to be cleaned for the seating of the second show starting at 8:30 (doors open at 8:00). Artists may opt to perform the same show twice in an evening.
Ticketing
Tickets must be purchased in advance from Ticketscene. There will be no sales at the door. Tickets will be for a group of people, from the same social bubble. Tickets will be for a group of four, three, two or one persons.
Patrons who don't purchase their tickets together will not be allowed to sit together. We will not sell passes initially, but will consider doing so later in the season.
Safety Concerns
Masks will be required as directed by Public Health at the time. Similarly, standards around such things as hand sanitizing, distancing, touching, performer safety, etc will be governed by the same directives.
Only ticketed patrons, staff and volunteers will be allowed to enter the Jazz Room. Patrons may only exit to the outside, not to other parts of the Huether Hotel. There are two designated restrooms at the back of the room for patron use. One entry and one exit door at the front of the building are to be used by patrons.
These are initial plans for restarting the Jazz Room shows and they will be adjusted as necessary. In the spirit of the GRJS community, we will work together to create the safest and most convivial environment during this transition phase of reopening the Jazz Room.