When:
March 23, 2014 @ 5:30 am – 8:30 am
2014-03-23T05:30:00+00:00
2014-03-23T08:30:00+00:00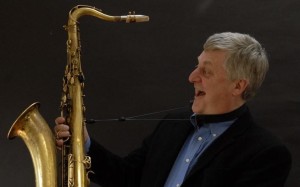 Alex Dean, one of Canada's great jazz saxophonists, has been a mainstay of the Canadian Music scene for many years.  He has played with a who's who of legendary musicians, bands and ensembles, including Gil Evans, Mel Torme, and Ray Charles.  He held the tenor chair in the Grammy award winning Boss Brass, and he has been voted "Jazz Musician of the Year" by the Toronto Star. Alex plays modern, mainstream jazz with a burly extroverted sound.  His big wide sound, and his flair for long lines places him in a lineage that includes such virtuosi as Michael Brecker, Ernie Watts  as well as John Coltrane, Alex' main inspiration. His original compositions range from slow swingers to high energy and intense modern jazz.  Alex also has a sensitive and expressive touch with the standards.
Alex's latest recording on the Cornerstone Label is "At This Point" and features the quintet that will join him at the Jazz Room on March 22. The stellar lineup features Jazz Room favourite Brian Dickinson on piano as well as the wonderful Lorne Lofsky on Guitar. The Band is rounded out by Keiran Overs on Bass and Ted Warren on Drums. 
Alex Dean-Tenor
Brian Dickinson- Piano
Lorne Lofsky- Guitar
Keiran Overs- Bass
Ted Warren- Drums