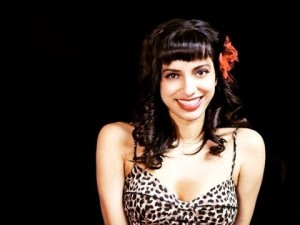 2014 Juno nominee Alysha Brilla is a critically acclaimed Tanzanian-Canadian singer, songwriter and producer. She plays guitar, piano and djembe, creating a unique original soul-folk sound which has been featured on stages internationally. In the summer of 2013, Brilla released her first full length record, In My Head, available on iTunes. In My Head incorporates the wide range of world music that she grew up with, the jazz for which she's become known plus injections of rock, soul and funk.  Music Vice Magazine boldly put her talent this way: "Step aside Torontonians. We've got ourselves the next Amy Winehouse"
 The music video for her Swahili-infused song, "Nobody", won the 2013 Ibiza Music Video Festival Fan Choice Award. Brilla's music has been featured on major network television shows such as "King" and "Degrassi; the Next Generation". She has performed for audiences internationally and been featured on CBC, Global TV and Omni network.
Alysha brings her "Brillion Dollar Band" to the Jazz Room on June 13.