When:
March 27, 2015 @ 8:30 pm – 11:30 pm
2015-03-27T20:30:00-09:00
2015-03-27T23:30:00-09:00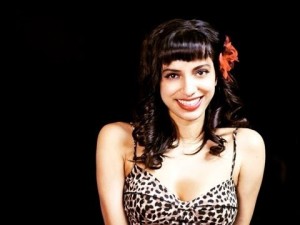 "Step aside Torontonians; we got ourselves the next Amy Winehouse." – Music Vice Magazine
"There is something remarkably bonafide and refreshing about Brilla as an artist, storyteller, and composer. A definite breath of fresh air doing Tanzania and Canada proud." – Okay Africa Magazine
Alysha Brilla –  2014 Juno Nominee  – is a critically acclaimed singer, songwriter and producer, and she brings her "Brillion Dollar Band" to the Jazz Room for this show. She is Tanzanian-Canadian of the Indian diaspora, born in Mississauga, but raised in Kitchener. Her second full length album "Womyn" was released Sept 2014 and the title track was CBC Radio Song Of The Week. She plays guitar, piano and djembe, creating a unique original soul-folk sound which has been featured on stages internationally. In the summer of 2013, Brilla released her first full length record, "In My Head", available on iTunes. The music video for her Swahili-infused song, "Nobody", won the 2013 Ibiza Music Video Festival Fan Choice Award. Brilla's music has been featured on major network television shows such as "King" and "Degrassi; the Next Generation". She has performed for audiences internationally and been featured on CBC, Global TV and Omni network.
Alysha  Brilla is a huge Jazz Room  and Kitchener-Waterloo favourite. Her shows are always sell outs, so get your tickets in advance or arrive early for this one.
Here is the video for Alysha's hit "Two Shots"
Alysha covers the Ellington/Russell classic "Do Nothing 'till Your Hear From Me"