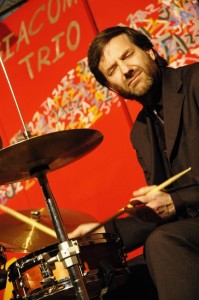 "Andrea Marcelli's music is vibrant and thought-provoking as today's events" – Wayne Shorter
"..Marcelli's compositions transcend simple melody, transporting the listener to places known and unknown, eliciting hidden emotions" – John Kelman www.allaboutjazz.com
Italian drummer Andrea Marcelli plays drums the way Gary Burton plays vibes – music filled with air and space  – a European Jack Dejohnette.  Andrea graduated in 1986 from the L. Refice Conservatory in Frosinone (Rome) in Classical Clarinet, Jazz Composition and Arrangement. He moved to USA in 1989, spent 8 years in Los Angeles and 4 in New York quickly gaining a Special Green Card Visa as a "First preference Alien with Extraordinary abilities in the Field of Jazz".
He has performed live and/or recorded with Wayne Shorter, David Liebman, Don Menza, Bob Mintzer, Mitchel Forman, Eddie Gomez, Mike Stern, Bob Berg, John Patitucci, Allan Holdsworth, Markus Stockhausen, Simon Stockhausen, Alan Pasqua, Dave Carpenter, Ralph Towner, Eberhard Weber and this is only a partial list…..
Andrea has been resident of Berlin since 2001.
This is beautiful jazz with strong European classical tradition influences. Here is a sample…..
Andrea Marcelli Trio at the St. Petersburg Philharmonic Hall, St. Petersburg, Russia
Andrea Marcelli – Drums
Kirk Macdonald – Saxophones
Brian Dickenson – Piano
Roberto Occhipinti – Bass