When:
June 5, 2015 @ 8:30 pm – 11:30 pm
2015-06-05T20:30:00-09:00
2015-06-05T23:30:00-09:00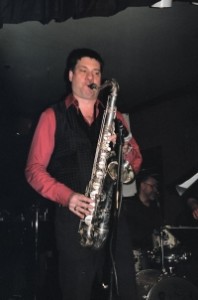 Andy Klaehn is a dynamic, multi-talented, professional musician, bandleader, and master teacher. He is a highly sought after alto, soprano, and tenor sax player, as well as a flute and clarinet player performing with various artists in a wide array of collaborations from duos to sextets. Andy is also a founding member of the renowned Top Pocket Jazz Quartet.
Andy was born in Kitchener, Ontario where he studied classical clarinet under K-W Symphony clarinettist, Victor Sawa, a renowned world class performer. Andy's interest in jazz and contemporary music led him to enrol at Humber College in Toronto where he studied under Eddie Sossin and Pat Labarbera. Andy has played with many jazz legends, including Woody Herman and Buddy Rich and is internationally recognized as a performer and teacher.
Andy has performed for appreciative audiences at the Uptown Waterloo Jazz Festival, the Hillside Festival, the Guelph Jazz Festival, the Thursday at Noon Concert Series in Guelph, and at the legendary Rex Jazz and Blues Bar in Toronto.
In his numerous travels, Andy has shared the stage with many musical giants, such as Maynard Ferguson, Moe Koffman, Kenny Barron, Carol Welsman, Barry Elmes, and Peter Appleyard. He has also played with the Stratford Festival Orchestra, the K- W Symphony, and as a sideman for Bo Diddley, in addition to being a show band musician for Carnival Cruise Lines.
Andy is an active member of the Faculty of Music at the University of Guelph, as well as a woodwind teacher in local private studios. In addition to teaching, Andy also maintains a busy performance schedule in the live music scene.
Andy plays "The Look of Love" with Kevin Murch on guitar