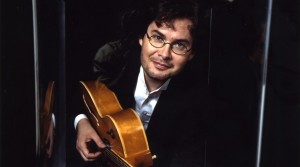 Boom For Rent is a collection of some of the finest musicians Toronto has to offer and the band plays straight ahead, classic jazz.
(Click here for a terrific interview and article on Boom for Rent by our very own Terry Pender!)
A guitarist of significant musical relevance, Reg Schwager has spent much of his professional career living in relative obscurity in Toronto, Canada. A distinctly singular voice on his instrument, Schwager's playing reflects a thorough understanding of the entire history of the genre, from the pre-swing through the free jazz movements (Schwager spent time studying with pianist Cecil Taylor.)
Considered a child prodigy, Schwager was already performing in Canada with vibraphonist Peter Appleyard in his mid-teens. His reputation led to performances with Pepper Adams, Jon Hendricks, Hank Jones, Junior Mance, Jimmy McGriff, Zoot Sims, George F. Benson, J.R. Monterose, Chet Baker, Dave Young, Rob McConnell, and Oliver Jones, as well as a long-term tenure in George Shearing's working group. Schwager also holds the guitar chair in the Toronto-based Dave McMurdo Jazz Orchestra, to which he is a regular contributor of compositions and arrangements
Saxophonist Chris Gale studied at  Mohawk College McGill in Montreal and later at the University of Toronto where he honed his performance skills. Today Gale performs in several groups, including Buckaloose with Vanessa Rodrigues on the B-3 organ, Mike Rud on guitar and drummer Davide DiRenzo. Gale is also an experienced touring musician, having performed with Canadian singer-songwriter Colin James and a four-year stint with Canadian country pop band Blue Rodeo. Gale plays predominantly tenor and baritone sax.
The rhythm section includes Brendan Davis on Bass.  Brendan has lead his own groups and performed with almost everyone on the Toronto scene from Laura Hibbert, Chris Butcher and Mike Malone.  The drum chair is held by Jazz Room favorite – Ted Warren. Ted has a solid reputation as a musical, versatile drummer. He is an active member of Canada's jazz scene and has been recognized with Jazz Report's Drummer of the Year award. He teaches at Humber and Mohawk College in their Jazz Studies programs and is a well-regarded clinician and adjudicator.
Chris Gale – Saxophones
Reg Schwager – Guitar
Brendan Davis – Bass
Ted Warren – Drums
Boom For Rent plays the Gershwin standard – "Soon"