When:
January 11, 2014 @ 7:30 am – 10:30 am
2014-01-11T07:30:00+00:00
2014-01-11T10:30:00+00:00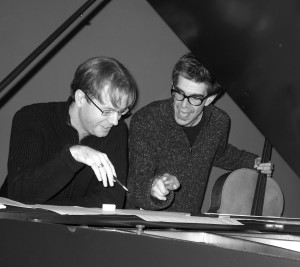 With David Braid (piano) and Matt Brubeck (cello), a stronger creative pairing could hardly be imagined.
Two-time Juno winner, Braid has been hailed as "A jazz genius to call our own" by McLean's Magazine. He is among a new generation of Canadian artists making his mark on international stages, having performed across Western Europe, Scandinavia, Asia, Australia, Brazil, the United States, and Canada.  Brubeck is also a Juno-award winning performer/composer specializing in cello improvisation. Raised on jazz and classically trained at Yale, Matt is at ease in multiple genres and has taken his cello improvisation skills into diverse musical territories including Tom Waits, Natalie McMaster, Yo-Yo Ma, and currently with the Stretch Orchestra (with Kevin Breit and Jesse Stewart).
Brubeck Braid's music blurs the distinctions between jazz, classical and new music. Their CD twotet/deuxtet was nominated for a Juno, and the duo has toured across Canada, China, and Australia. A rare combination in the jazz world, the cello and piano duo format provides a unique opportunity to showcase the intimate interplay of these two like-minded musicians, who can easily segue between genres with fluid versatility.
Opening for these two giants will be an acoustic trio of top home-grown talent: Derek Hines, Brian Voll and Johnny Chapman!