When:
March 14, 2015 @ 8:30 pm – 11:30 pm
2015-03-14T20:30:00-09:00
2015-03-14T23:30:00-09:00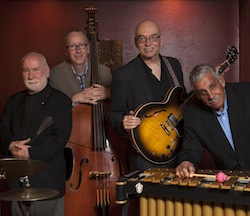 The original CANADIAN JAZZ QUARTET was founded in 1987, the result of a musical collaboration among four of the best musicians on the Toronto club and studio scene. The band plays mainstream jazz with a swinging and graceful treatment of standards and original material. The CJQ The lineup has evolved somewhat over the years, but the CJQ remains the standard of excellence in jazz in Canada.
Vibraphonist FRANK WRIGHT has been an important part of the Toronto jazz scene since the 1950s when he was a regular performer on the 'after hours' club circuit. During its existence, he appeared regularly at Toronto's Bourbon Street with clarinetist Henry Cuesta, and toured with him to California jazz festivals in Palm Springs, San Diego, and Sacramento. He was a frequent performer with The Garden Avenue Seven in Florida and on tour across the U.S. In the mid 1980s he formed a quartet with well-known drummer Archie Alleyne and together, they were often featured at the famous George's Spaghetti House. He has worked with celebrated jazz names including Joe Williams, Norman Amadio, Jim Galloway, Rob McConnell, and Peter Appleyard.
TED QUINLAN is respected as one of Canada's most multi-faceted jazz musicians, highly skilled as a solo jazz guitarist, session player, writer, and dedicated educator. He is a sought-after sideman, frequently appearing with the "who's who" of Canadian jazz artists on concert stages, in clubs, and in jazz festivals from coast-to-coast. Throughout his abiding career, he has performed with some of the biggest international jazz stars including Freddie Baker, Chet Baker, Eddie Harris, Jimmy Smith, and Joey DeFrancesco.
PAT COLLINS moved to Toronto from BC in 1988, and got a top-level entry into Toronto's jazz community when Moe Koffman asked him to join his quintet (with Ed Bickert, Bernie Senensky and Barry Elmes), a break that led to opportunities to travel throughout Canada, the United States, and Germany. At the time, Koffman's band performed one week per month at the famous jazz club, George's Spaghetti House, where Pat played regularly with leading local and national lights. He has performed with a long list of the elite of Canadian jazz musicians including Oscar Peterson, Diana Krall, Rob McConnell, Peter Appleyard, Don Thompson, John Ballantyne, Campbell Ryga, Ed Bickert, Lorne Lofsky, Hugh Fraser, Oliver Jones, Denzal Sinclaire, Renee Rosnes, Dave McMurdo, and Shirley Eikhard. He has also worked with international jazz artists including Joe Henderson, Dizzy Gillespie, Jerry Bergonzi, Kenny Wheeler, Jimmy Cobb, Lee Konitz, Ray Bryant, Bill Mays, Tal Farlow, Barry Harris, and Herb Ellis.
Drummer DON VICKERY relocated to Toronto from Halifax in 1959, and has been a vital part of the jazz scene there ever since. An honors graduate of the famed Oscar Peterson School of Music, Don has played on recordings, on radio and television shows, touring, and in live performance in hundreds of venues from clubs to concert halls with the world's leading jazz artists, entertainers, and big bands including Ralph Sutton, Harry 'Sweets' Edison, Benny Carter, Joe Williams, Jay McShann, Buddy DeFranco, Peter Appleyard, The World's Greatest Jazz Band, Art Farmer, Doc Cheatham, Zoot Sims, Doug Riley, Ed Bickert, Dave McMurdo, Red Norvo, Joe Venuti, Jack Sheldon, Herb Ellis, Jimmy Witherspoon, Della Reese, Fraser MacPherson, Norman Amadio, Jim Galloway, Rob McConnell, Buddy Tate, Moe Koffman, Eddie 'Lockjaw' Davis, Tony Bennett, and Mel Torme. Don Vickery has been a member of the Jazz Studies Faculty at Humber College since 1974.
Here is the CJQ with a slightly different line-up at the Toronto Jazz Festival in 2011 with guest Scott Hamilton.
Frank Wright- vibes
Ted Quinlan- guitar
Pat Collins- Bass
Don Vickery- Drums