When:
February 16, 2014 @ 7:30 am – 10:30 am
2014-02-16T07:30:00+00:00
2014-02-16T10:30:00+00:00
JUNO nominee and Galaxie rising star winner, Trombonist Darren Sigesmund visits the Jazz Room with his quintet on Feb. 15.   Sigesmund's music synthesizes wildly diverse influences into totally distinctive work.  Argentinean tango, Brazilian folk songs, and Balkan music infiltrate the compositions and generate beautifully accessible melodies.  Sigesmund has performed around the world, including concerts at Shanghai's Club ZZ, the Canadian Embassy in Tokyo and at the Jarasum International Jazz Festival in South Korea.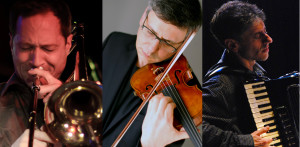 Joining Darren for the Jazz Room date is legendary Jazz violinist Mark Feldman. Feldman has made over 45 jazz albums as a sideman with everyone from Lee Konitz to They Might be Giants.  Also in the group is New York-based pianist Gary Versace. Over the past five years, Versace has appeared on over 50 recordings for the SteepleChase and Criss Cross labels.  Marian MacPartland has called him "endlessly inventive" and "an extraordinary talent".  Rounding out the band are Jazz Room veterans and extraordinary talents Ethan Ardelli and Jim Vivian.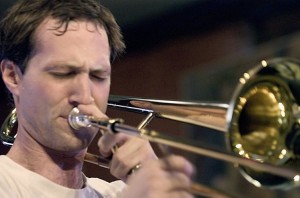 Darren Sigesmund- Trombone
Mark Feldman-Violin
Gary Versace-Piano
Jim Vivian- Bass
Ethan Ardelli- Drums