When:
April 13, 2014 @ 5:30 am – 8:30 am
2014-04-13T05:30:00+00:00
2014-04-13T08:30:00+00:00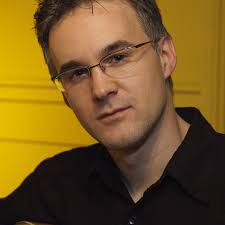 delicate jazz guitar that dances at the right moments" – cbc.ca
Dave Thompson is one of Kitchener-Waterloo's finest musicians of any musical gendre. This man can play any style with anyone and can hold his own with the best guitarists in the country.  He began as a freelance guitarist in the late 1980s and currently tours with  Juno-winners Kellylee Evans and Susan Aglukark. Dave has performed in jazz festivals, clubs and concert venues across Canada and the USA, while continuing a presence on the local scene. He is a regular at the Stratford festival, playing in the pit for both 'Tommy" in 2013 and "Jesus Christ Superstar" in 2012. Dave has opened for George Benson, Richard Bona, Chris Botti and others as a member of Kellylee Evans' group, and has toured every province and territory Canada (including Nunavut) and several US states.
Dave studied jazz composition (with Herb Pomeroy) and guitar at the Berklee College of Music in Boston and has worked in concert halls, festivals, summer resorts, clubs, musical theatre, radio and TV, as well as on many CDs as a sideman, producer or arranger. He credits former bandleader Kenny Munshaw with much of his early experience and development as a working musician. His guitar and writing influences include Joe Pass, Pat Metheny, John Scofield, Alex Lifeson, Duke Ellington, Reg Schwager, Joni Mitchell, Wes Montgomery, Gil Evans, Sting, George Benson, Lyle Lovett and many more.
Dave Thompson lays down a scorching solo a a member of the Tim Louis Trio on "Something's Breaking"……http://www.youtube.com/watch?v=eGMQDs0mtpc

Dave Thompson: guitar
Dave Wiffen: sax
Mark McIntyre: bass
Giampaolo Scatozza: drums