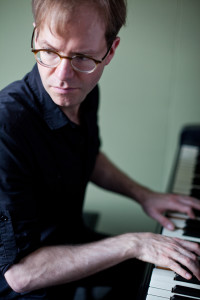 "A jazz genius to call our own" – Macleans' Magazine
Combining harmonic intricacies fundamental to his training in European classical music and the spontaneity of American jazz, Braid's original music engages audiences with a quiet, thoughtful, lyrical voice that does not conform neatly to any one musical genre. His work has been described as "refreshingly uncategorizable" (Paris Transatlantic), "wide-ranging, exploratory" (South China Morning Post), "une force poétique" (Le Soleil) and "elegant" (Ottawa Citizen).
(Click here to read Terry Pender's exclusive article about, and interview with, David Braid!)
Born in Hamilton Ontario, Braid graduated from the University of Toronto in 1998 and was nominated for the Canadian Governor General's Academic Medal. Since that time, he has produced seven recordings, garnering four Juno nominations with five ensembles: The David Braid Sextet, Murley Braid Quartet, Brubeck Braid, Nimmons'n'Braid and Davidson/Murley/Braid Quintet (DMBQ).
Braid's musical curiosity and open-mindedness has spawned unexpected collaborations with such diverse instrumentalists as Holland's ZAPP String Quartet, Indian classical musician Vineet Vyas (tabla), China's Chang Jing (guzheng), Nexus and the popular jazz/rock group, Metalwood. In a completely different setting, he has appeared as a soloist with the Winnipeg Symphony Orchestra and Northumberland Orchestra performing George Gershwin's Rhapsody in Blue.
David with his sextet in Brazil.
Trevor Hogg, saxophone
Michael Davidson, vibraphone
Don Scott, guitar
Michael Herring, bass
Nick Fraser, drums
David Braid, piano