When:
March 2, 2014 @ 7:30 am – 10:30 am
2014-03-02T07:30:00+00:00
2014-03-02T10:30:00+00:00
Vibrophonist Greg Runions (who also plays timpani with the Kingston Symphony) has been composing jazz music for larger ensembles for at least 25 years and has collaborated with Kenny Wheeler, Don Thompson, Mike Murley, Anthony Braxton and others.  His big band compositions have a hard driving sound, reminiscent of the best of Gil Evans.  The music is lyrical, intense and filled with colour, making it simultaneously accessible and interesting to hear.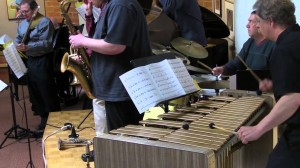 Kingston guitarist Dave Barton joins his fellow Kingstonite for this gig. Dave first studied guitar by trying to copy Chet Atkins records at age 10, but made Jazz a lifelong vocation after graduating from Queens with a music degree in 1982.  The band is rounded out by Jazz Room veterans Brian Dickinson (piano), Terry Clarke (drums) and Artie Roth (bass).  Don't miss this chance to hear the best of the best, with a vibraphone twist.
Greg Runions- Vibes
Dave Barton- Guitar
Brian Dickinson- Piano
Artie Roth-Bass