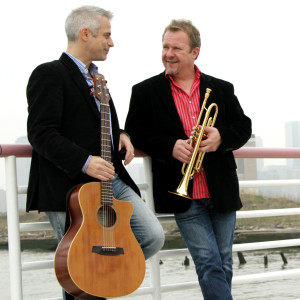 "Both of them put beauty and feeling first"  – RYAN PRESTONE< JAZZ INSIDE NEW YORK
"It's a perfect musical pairing like Cabernet and steak that you can taste for yourself" – TIM TAMASHIRO, CBC
"(Sean Harkness) is a technical virtuoso who's Joe Pass / Tommy Emmanuel fingerstyle approach is always in service to telling a story or creating a feeling within the song; [Harkness] transcends many genres and can touch listeners of many backgrounds." -JAZZ INSIDE NEW YORK
Trumpet/Flugehorn and Guitar seems like an unlikely combination, but in the hands of these two masters, the combination is something special.
Canadian Mike Herriott is probably most widely known for playing lead trumpet during the opening and closing ceremonies of the 2010 Vancouver Winter Olympics (2010 EMMY AWARD – Best Music Direction, Dave Pierce). He's also shared the stage with some of the world's finest artists including Michael Buble, David Foster, Jay Leno, Maynard Ferguson, Slide Hampton, Phil Nimmons, Maria Schneider, Bob Newhart, The Temptations, Johnny Mathis, The Moody Blues, Tommy Banks, Alex Cuba, Chucho Valdes, Kenny Wheeler, Rob McConnell, Ian McDougall, and the late Sir Yehudi Menuhin.
As a solo artist with six CDs, Sean Harkness' music is on Windham Hill Records [Sony/RCA/BMG] and a list of independents. He has also scored music for television, including World's Strongest Man, ESPN, NASCAR and ABC Sports.
Sean  left Burlington, VT for New York City in 1994 to immerse himself in their music scene. Known especially for duets and ensemble work with singers from Broadway, television, and screen, Harkness is now a first-call guitarist who compliments an exhaustive client list of artists and productions worldwide. Sean performs extensively both as a solo artist and sideman in New York's finest jazz, rock, folk, cabaret, blues, R&B, and singer/songwriter venues. He is the go-to guitarist for duets and ensemble work with singers from Broadway and television such as Alison Fraser, Susan Egan and Carole Demas.
The Harkness Herriott Duo perform "Float Away" at the Toronto Jazz Festival 2014