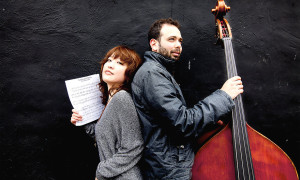 "two young masters creating dialogues of mesmerizing possibilities." – Eliseo Cardona.
YEP is a highly creative collaboration between two innovative musicians. Each one an imaginative composer, Ehud and Haruka have created, during the past few years, a unique interaction on stage. Their performances have been described by listeners as "captivating" and "fascinating."  The music is a blend of chamber jazz and European classical composition reminiscent of ECM artists Eberhardt Weber and Jan Garbarek. Beautiful, quiet stuff.
"The beauty is that we came together through music way before we could find a common verbal language," explains Haruka. "Once music took over, once we knew that improvising could take us anywhere, the journey itself was our destination."
Born November 12 1987, Haruka Yabuno found her passion in the black and white keys at a very early age with her first improvisation at the age of three.  Her foundations in classical piano continued to strengthen as she accumulated numerous distinctions in national level competitions that eventually lead her to be accepted into the prestigious Kunitachi College of Music in Tokyo, Japan.
It is during her time at Kunitachi College of Music that she was exposed to the music of Jazz and studied with legendary pianists such as Makoto Ozone, Yosuke Yamashita and Masahiro Sayama.  During her formative years in jazz, she has performed at the master class by Hank Jones and was awarded the highest honors by the Jazz department in Kunitachi College of Music The Yosuke Yamashita Award.
In 2010, by recommendation of her mentor Makoto Ozone, she received a scholarship from the Berklee College of Music in Boston, USA.  While majoring in Jazz Composition, she continues to study with great pianists such as Ray Santisi, Alain Mallet and Neil Olmstead.  She studied Jazz composition with great composers and arrangers such as Greg Hopkins, Phil Wilson, and Scott Free.
Israeli Double Bass player Ehud Ettun performed at venues ranging from New York's Blue Note to Washington's Kennedy Center and Boston's Symphony Hall and collaborated with artists such as George Garzone, Danilo Perez, Fred Hersh, Eli Degibri, Anat Cohen, Ferenc Nemeth, Donny McCaslin, Frank London and others.
YEP plays their haunting original composition "Natural Fears"
Haruka Yabuno – Piano
Ehud Ettun – Double Bass