When:
March 13, 2015 @ 8:30 pm – 11:30 pm
2015-03-13T20:30:00-09:00
2015-03-13T23:30:00-09:00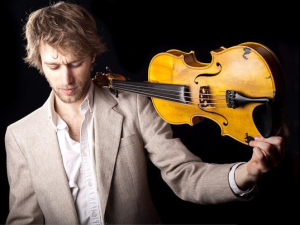 "like a fiddling Frank Zappa or Sun Ra and his Arkestra, changing pace and styles on a dime but always with consummate musicality…" – Penguin Eggs (Summer 2013)
"….veers happily from traditional Indian raga riffs to Celticreels to suave Latin jazz before arriving at — wait for it — "People Are Strange," where the Doors' vintage hit is reconfigured into a free-flowing New Orleans jazz jam." – Toronto Star
Described as "Tom Waits playing the fiddle, backed up by the Mahavishnu Orchestra", Jaron Feeman-Fox and his band  "Opposite of Everything" transform Freeman-Fox's intricate compositions into an infectious party!
Jaron  has performed for 100,000 people and the young royal couple on Parlimant hill, and he's collaborated with a troupe of nomadic Rajasthani gypsies at the Delhi International Arts Festival.  He's shared the stage with Delhi2Dublin, Tanya Tagaq, and James Kudelka. Jaron however, is most proud of the fact that he's broken three different fiddles on stage and zero bones, had his violin stolen by monkeys in Bali and got it back without contracting rabies
Contorting the violin into new traditions, violinist/composer Jaron dances down the fine line between the beautiful and the ridiculous, while redefining what the violin can do.  Having produced or played on over 40 albums (Teresa Doyle, Jayme Stone, Autorickshaw) and toured the world many times over as a solo artist, bandleader or collaborator with bands such as Delhi 2 Dublin, Ben Caplan, and Sam Lee, Freeman-Fox fuses his roots of fiddling with his study of Indian classical music and jazz, while playing the 5-string violins of his late mentor; fiddle pioneer Oliver Schroer.
Prepare to be amazed….
Appalachian Mountain Music meets New Orleans Second Line meets Jean-Luc Ponty – JFF and the Opposite of Everything play "The Tip of your Lungs"
Here is a video of Jaron's mentor – the  great, giant fiddler Oliver Schroer  -from his last concert one month before his death in 2008 from leukemia and a year or so after he had walked the El Camino De Santiago, recording in churches along the way.
Oliver was a regular at Hillside with his band "Stewed Tomatoes"
Jaron Freeman-Fox – 5-string violin
Daniel Stadnicki – drums
Alan Mackie – upright bass
Frank Evans – banjo
Edwin Sheard – saxophone