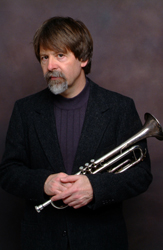 Joe Sullivan comes from the Northern Ontario town of Timmins. He grew up in a large Franco-Ontarian family, where music was a part of daily life. He began his formal training on piano and later, at the age of fifteen, started playing the trumpet. During his youth, he led an active musical life that included classical piano competitions, rock bands and high school concert and stage bands. He also composed music for several theater productions. He received a Bachelor of Arts degree in classical trumpet at the University of Ottawa in 1981. His interest in jazz led him to the Berklee School of Music, then to the New England Conservatory of Music, where he received a Master's degree in Jazz Studies in 1987.
(See our news item about Joe HERE!)
Since then he has lived in Montreal and has been active as a performer, composer, arranger and bandleader. A prolific composer, Sullivan directs a jazz sextet and a jazz Big Band. He has six compact discs to his name, the most recent being "Voices" (Effendi 2010) for sextet and "Northern Ontario Suite" for the Big Band. He has been a member of the Vic Vogel Big Band for over twenty years; has appeared as a trumpet soloist with the Pittsburgh Symphony Orchestra, and the Orchestre Symphonique de Montréal; and he has performed with numerous jazz artists of international repute, including Don Thompson, Lorne Lofsky, Kirk Macdonald, John Medeski, Pat Labarbera, Alain Caron, George Garzone, and Ranee Lee. He has received both the Prix Socan (1991) and the Prix DuMaurier (Joel Miller Group, 1997) at the Montreal International Jazz Festival as well as several awards from the Canadian and Québec arts councils. He currently directs the McGill Chamber Jazz Ensemble and teaches jazz composition, arranging and trumpet at McGill University, where he is an associate professor.
The Joe Sullivan Quintet at the Montreal Jazz Festival
Joe Sullivan = Trumpet
Lorne Lofsky – Guitar
Andre White – piano
Alex Walkington – bass
Dave Laing – drums