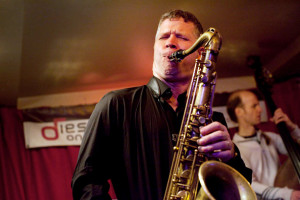 Winner of the 2013 Juno Award  – Best Contemporary Jazz Recording for "Honeycomb"!!
"Passionate and creative, melodic yet exploratory" — Sharonne Cohen, Downbeat Magazine
"positively engaging"— Donald Elfman, The New York City Jazz Record
"…album excellent parce que virevoltant de la nanoseconde numéro 1 à la dernière." — Serge Truffaut, Le Devoir
Montreal saxophonist Joel Miller marries his awe-inspiring technique and boundless sense of musical adventure with a pop musician's desire to make music that moves people.
His compositions are inspired by the melodic simplicity and emotional depth of American folk music, and they've been praised by Downbeat as "passionate and creative, melodic yet exploratory." His free-spirited eclecticism has been equally lauded by the magazine for "illustrating the cross-pollination emblematic of the Montreal jazz community." Dave Douglas calls Miller "a breath of fresh air and one of the great pleasures of the Montreal scene."
Joel at the Ottawa Jazz Fest.
Joel Miller tenor and soprano saxophones
John Roney piano
Fraser Hollins electric bass
Kiko Osorio drums and percussion
Kullak Viger Rojas cajon and congas