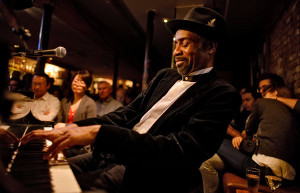 "If ever somebody sounded like Art Tatum, it's him" – Barry Harris
"My jaw dropped when I heard him play piano" –Kurt Rosenwinkle
"When he first started hanging at Smalls, he'd just sit at the piano and play, and there'd be about 10 piano players gathered about him. Everyone was scared to death to play,"  – Spike Wilner.
You may have seen him playing Art Tatum in the biopic  "Ray".  Critics and peers acknowledge Mr. O'Neal as perhaps the leading exponent of mid-20th-century jazz piano technique. In addition, his gustily radiant blues singing is as appealing to audiences as his piano playing. Nothing else to be said.
This is a rare opportunity to hear one of the great jazz pianists of the 20th (and likely 21st ) century. Don't miss it.
Johnny O'Neal – Piano, Vocals
Dave Young – Bass
Terry Clarke – Drums
Johnny performs "the Christmas Song".