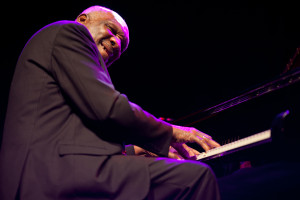 "With the wind at his back, he can sound like an ocean roar" – Gary Giddens on Harold Mabern
"One of the great post-bop pianists"  – Penguin Guide to Jazz Recordings
The Jazz Room presents a special Sunday afternoon duo performance with legendary pianist Harold Mabern and Toronto Saxophonist Kirk MacDonald.
(Click here to read Terry Pender's exclusive article about, and interview with, Harold Mabern!)
Harold Mabern, one of jazz's most enduring and dazzlingly skilled pianists, was born in Memphis, a city that produced saxophonists George Coleman and Charles Lloyd, pianist Phineas Newborn Jr. and trumpeter Booker Little. He was an unsung hero of the 1960s hardbop scene, performing and recording with many of its finest artists, and only in recent years has he begun to garner appreciation for his long-running legacy in jazz and the understated power of his talent.
During his over half-century on the scene as sideman and leader, he has played and recorded with such greats as Lee Morgan, Sonny Rollins, Hank Mobley, Freddie Hubbard and Miles Davis, just to name a few. "I was never concerned with being a leader, I just always wanted to be the best sideman I could be. Be in the background so you can shine through." Harold inhabits a jazz piano world that includes Phineas Newborn Jr., Mulgrew Miller, Art Tatum and sometimes, McCoy Tyner.
With an established reputation as one of Canada's leading saxophonists, Kirk MacDonald cut his first record at the age of thirteen. Throughout his career, he has received numerous awards, and has worked with many leading musicians in a variety of musical genres. He has performed on over 45 CDs as both leader and sideman, and has participated in numerous national broadcast recordings for CBC Radio. In addition to performing extensively throughout Canada, he has also performed in the USA, Spain, France, Italy, Holland, Monaco, Australia, Korea, Bermuda, and the Bahamas.
Harold Plays the Raye and De Paul classic "You don't Know What Love Is" at Smalls, NYC
Kirk MacDonald – Saxophones
Harold Mabern – Piano
This special Sunday show is included in the pass forJazz Room passholders. Doors open at 3 PM.