When:
April 5, 2014 @ 5:30 am – 8:30 am
2014-04-05T05:30:00+00:00
2014-04-05T08:30:00+00:00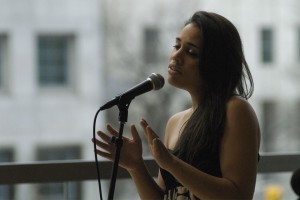 "Every note she sings is grounded in emotion and musicality" – Shannon Gunn
The Lydia Persaud Group has the pleasure of debuting their first live show on April 4th at the Waterloo Jazz Room. They will be playing arrangements of songs from such artists as Gretchen Parlato, Robert Glasper, paying homage to musical greats such as Stevie Wonder and Joni Mitchell and will also be playing original music written by Lydia Persaud. This will be a great night of showcasing music from the Jazz, R&B and Soul genres featuring The Lydia Persaud Group.
 Lydia's voice is seasoned by fronting many bands playing the Toronto nightclub circuit, including BF Soul, The Intentions,  and the Soul Motivators and she claims as influences, India Arie, Jill Scott, Alicia Keys and many others. Lydia completed a Bachelor's Degree in Applied Contemporary Music at Humber which gave her a well-rounded grasp of Jazz, R and B, Soul, Funk and Hip-Hip. This is a show that should blow the roof off the Jazz Room on April 4.

See Lydia's Stevie Wonder tribute  with her cover of India Arie's "Wonderful"
www.youtube.com/watch?v=qut1YPtb5KE
Chris Pruden – Keys
Julian Anderson Bowes – Bass
Eric West – Drums