When:
January 5, 2014 @ 7:30 am – 10:30 am
2014-01-05T07:30:00+00:00
2014-01-05T10:30:00+00:00
One of the truly great Canadian pianists, Mark Eisenman returns to The Jazz Room after bringing the house down during season one.  Mark has performed in many different venues with numerous eminent Canadian and U.S. jazz artists including: Art Farmer, Barney Kessel, Ed Bickert, Rob McConnell, Sam Noto, and Pat LaBarbera.   He has received The Jazz Report's Acoustic Pianist of the Year, among other awards.  In addition to being a pianist of great clarity and discipline in his interpretation of the standards, Mark has developed keen compositional skills. His efforts in this area have resulted in positive exposure on recordings with a variety of groups. In this capacity, his works have been described as "showing a flair for wide-ranging form and expression".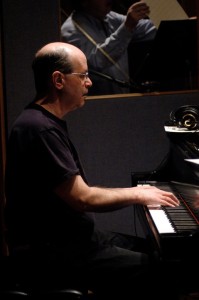 Joining Eisenman on piano will be side-men in his long-standing trio format, including John Sumner on drums, and Steve Wallace on bass.  Established in 1987, this group is considered Eisenman's 'classic trio' with countless gigs over the decades in Toronto's best venues.  The same group has a three night booking this coming February at Toronto's latest venue, The Jazz Bistro.