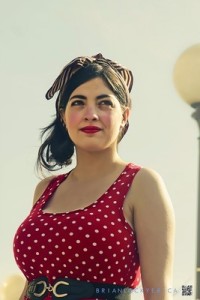 A recent University of Waterloo Music grad, Mary-Catherine has burst onto the jazz scene with particular verve and style, performing in such venues as Toronto's Rex Hotel and Gate 403.  Mary-Catherine has a penchant for classic films, and her musical preferences for many of the favorite jazz standards follows her vintage style. Not content to repeat the past, however, her renditions are sure to be fresh and spontaneous, bringing new light and interpretation to familiar melodies.
Mary-Catherine is also at home in the classical music realm. She has sung with the nationally acclaimed DaCapo Chamber Choir under the direction of Juno-nominated Leonard Enns, and was a soloist for the choir's performance of Schubert's Mass in G with the Kitchener-Waterloo Symphony in 2010.
During the holidays, we get in the festive spirit: social gatherings, outings, etc. While some of us find happiness with family and friends, some of us struggle to seek out the elusive happiness and holiday spirit. Mary-Catherine's concert at The Jazz Room this year will celebrate the holiday spirit with some favourite Christmas standards, along with non-holiday songs from the Great American Songbook that examine both the searching for and finding of happiness.
Mary-Catherine McNinch-Pazzano – Voice
Don Buchanan, Piano
Steve James, Drums
Mike Grace, Bass
Mary-Catherine sings Just In Time  at the Jazz Room