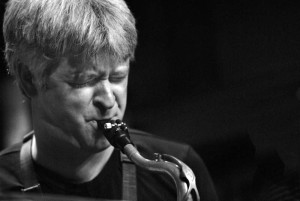 Mike Murley's current trio, which features Reg Schwager  on guitar and Steve Wallace on Bass, continues its tradition of intimate, lyrical explorations of jazz standards. This is not your average trio – no piano, no drum kit. It's mainstream chamber jazz at it's finest.
Formed in 1998, Mike's original trio featured the legendary Ed Bickert (guitar) and Steve Wallace (bass). In 2000, this group released "Live at the Senator", winning that year's Juno Award for best mainstream jazz album.  Bickert retired from playing professionally shortly after this but in Nov 2012 a recording of the trio's previously unissued material, "Test of Time", was released and promptly produced another Juno.  These recordings are certainly made significant by the fact that they represent the final two contributions to the legendary guitarist's rich discography.
An engaging, lyrical saxophonist, Mike Murley is one of Canada's finest jazz talents and one of the most versatile players on the scene today. Currently active as a leader in various formations from duo to septet, Murley also maintains a busy schedule as a sideman and jazz educator (University of Toronto).  He has played on eleven Juno Award-winning recordings since 1991.
Reg Schwager is one of Canada's leading jazz guitarists. He has played with such internationally acclaimed jazz artists such as Mel Torme, Pepper Adams, Hank Jones, Junior Mance, Jimmy McGriff and Zoot Sims, and such celebrated Canadian jazz musicians as Diana Krall, Rob McConnell, Peter Appleyard, Oliver Jones, Dave Young and Don Thompson.
 Bassist Steve Wallace has played with such international luminaries as Clark Terry, Harry 'Sweets' Edison, Eddie 'Lockjaw' Davis, George Coleman, Zoot Sims, and Pepper Adams, and has recorded and toured with some of the biggest names in Canadian jazz including Fraser MacPherson, Rob McConnell, Oscar Peterson, and Oliver Jones.
The Trio's most recent recording – "Looking Back" – is available on Cornerstone Records