When:
December 28, 2019 @ 8:30 pm – 11:30 pm
2019-12-28T20:30:00-05:00
2019-12-28T23:30:00-05:00
Playdate, a co-led band with pianist, Adrean Farrugia and saxophonist, Tara Davidson.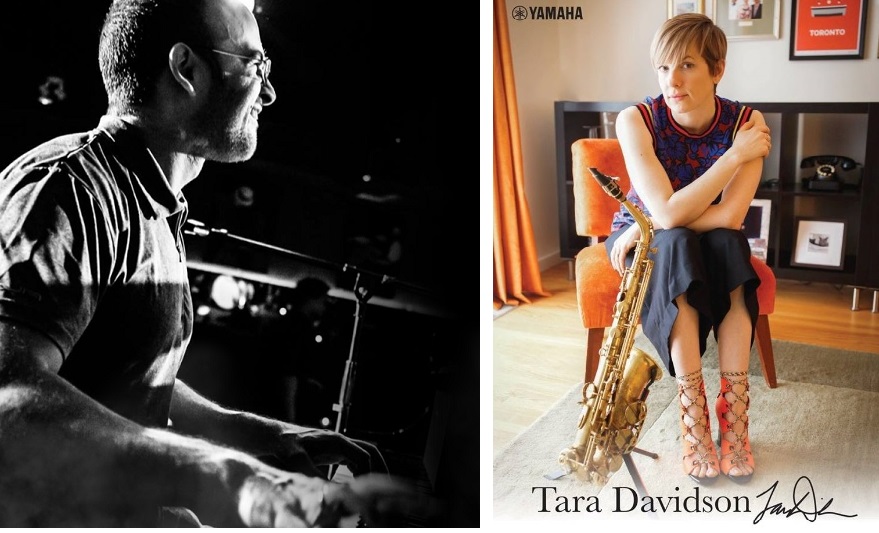 Award winning pianist and composer Adrean Farrugia is one of Canada's most distinct voices on the piano.
Since the late 1990s Adrean has been in high demand as a freelance performer and educator. Keeping a busy touring schedule, mainly as a sideman, Adrean has toured extensively across Canada and the United States as well as in venues across Europe, Australia, the UK, Israel and in Japan.
Adrean has performed/recorded with some of jazz's greatest and most diverse artists including: Ernie Watts, Adam Nussbaum, Larry Carlton, Curtis Fuller, Tom Scott, Bob Brookmeyer, Randy Brecker, Eric Alexander, Cyrille Aimee, Molly Johnson, Jane Bunnett, Ron Blake, Joel Frahm, Matt Penman, Dafnis Prieto, Kinan Azmeh, Brad Goode, Kenny Wheeler, Darcy James Argue, Don Thompson, Lorne Lofsky, Kevin Turcotte, and Pat Labarbera.
Tara Davidson is a multiple JUNO Award nominated alto and soprano saxophonist who has performed around the world at such prestigious venues as New York City's Carnegie Hall, the acclaimed North Sea Jazz Festival in the Netherlands, the International Jazz Festival in Lima, Peru, the JZ Jazz Club in Shanghai, China, and The Kennedy Center, in Washington, D.C.
As a bandleader, Davidson has produced six recordings since 2004 and performed on approximately thirty recordings as a side person. Four of her six recordings as a leader or co-leader have been nominated by the JUNO Awards for "Album of the Year" in the "Traditional", "Solo" and "Group" jazz categories.
Alex Samaras (Vocals)
Tara Davidson (Alto and Soprano Sax)
Adrean Farrugia (Piano)
Andrew Downing (Acoustic Bass)
Ernesto Cervini (Drums)
Listen to Adrean and Tara, "Blue Dharma" and "Going Solo"
This performance is part of the WOMEN IN JAZZ series, sponsored by DIVA INTERNATIONAL, makers of the Diva Cup