When:
February 22, 2014 @ 7:30 am – 10:30 am
2014-02-22T07:30:00+00:00
2014-02-22T10:30:00+00:00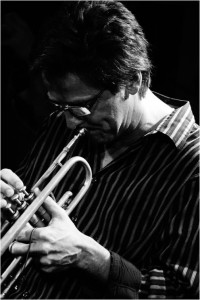 As a returning Jazz Room perennial favourite, Ray Podhornik is one of the most popular jazz trumpet interpreters around.  His chops and technique are impeccable, but it's his emotional expressiveness and ability to inhabit a song that ultimately carries the day.  His versatility in a wide range of genres brings a wonderful sense of variety to every show—seamlessly navigating from swing to blues, to Latin, rock or soul.  Ray has a particular knack for ballads and loves to build songs all the way from a whisper to a roar with dynamic sensitivity and ultimate intensity.  He is also a gifted composer, penning songs that are at once melodic and accessible, as well as complex and interesting.    
 Joining Ray in his favourite sextet format will be a who's who of jazz room favourites including: Calvin Beale – bass, Randall Coryell – drums, Dave Thompson – guitar, Andriy Tykhonov – piano, and Sean O Connor – sax.
Calvin Beale – bass
Randall Coryell – drums
Dave Thompson – guitar
Andriy Tykhonov – piano
Sean O Connor – sax
Ray Podhornik – trumpet