When:
February 8, 2014 @ 7:30 am – 10:30 am
2014-02-08T07:30:00+00:00
2014-02-08T10:30:00+00:00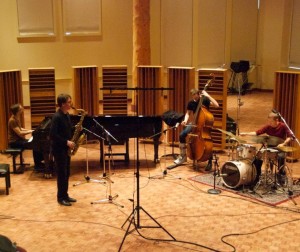 Like the psychological test of the (almost) same name, this Toronto based musical collective aims to be a musical inkblot, creating patterns, images and textures which the listener is free to interpret and experience in their own way, projecting their own state of mind through the music.
Roarshaq's music has a Nordic feel – big sounds, lots of space and air, and lovely original compositions. The sounds are reminiscent of some of the great ECM European jazz recordings but with some Coltrane-like intensity and angularity. This music feels timeless and familiar, but at the same time very new. This is a show not to be missed. 
Roarshaq is Jeff LaRochelle  Saxophones, Joel Visentin  Piano,  Mark Godfrey Bass, and Derek Gray  Drums.