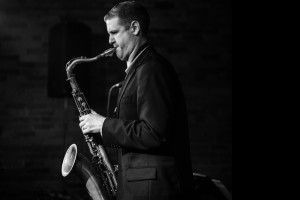 A Juno-nominated, Toronto-based saxophonist, Ryan Oliver honed his craft on Canada's west coast before moving to Amsterdam, Toronto and then New York.  Since returning to Toronto, he has maintained a busy schedule as one of Canada's most in-demand saxophonists.  Oliver has toured India, Australia, New Zealand, the United States, and Canada with the legendary eclectic jazz group, The Shuffle Demons.  He is also a member of Juno award winning blues/rock performer Derek Miller's group.  The band has travelled throughout North America, including performances at the New Orleans Jazz Festival, the Aboriginal Achievement Awards (broadcast on CTV), and Toronto's Dundas Square.  Oliver is featured in the horn section on Derek Miller's most recent recording, "Derek Miller and Double Trouble", featuring Stevie Ray Vaughn's heralded rhythm section Double Trouble and musical icon Willie Nelson.  The recording was nominated for a Juno in 2011.
 Ryan Oliver's debut recording, Convergence, was selected by CODA Magazine as one of the top 10 Canadian jazz releases of 2007. Ryan's most recent recording is "Strive". 
For his Jazz Room show, Ryan will be joined by the great Bernie Senensky on piano. Bernie was lynchpin member of the Moe Koffman Quintet throughout its legendary two-decade lifetime. He's a prolific recording artist who played in piano duets with jazz giants Oscar Peterson and Marian McPartland and he has been a featured performer with major name bands including Art Blakey and The Jazz Messengers, Rob McConnell and The Boss Brass, the Maynard Ferguson Orchestra, and the Elvin Jones Quartet. The rhythm section is completed by Alex Coleman on Bass and multiple Jazz Award winner Barry Elmes on Drums.
Ryan Oliver – Saxophone
Bernie Senensky – Piano
Barry Elmes – Drums
Alex Coleman – Bass