When:
October 4, 2019 @ 8:30 pm – 11:30 pm
2019-10-04T20:30:00-04:00
2019-10-04T23:30:00-04:00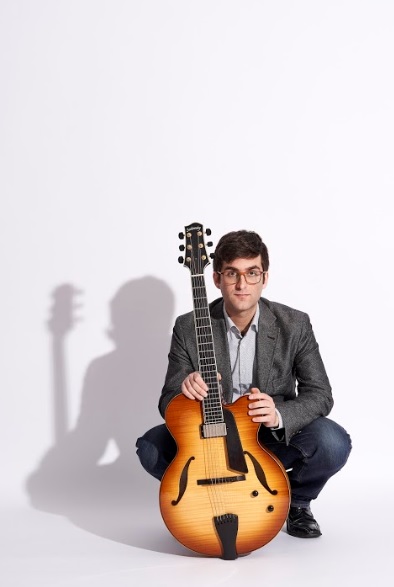 "No pretense or posturing, only musical sincerity."
Guitarist and composer Sam Kirmayer, plays straight-ahead jazz  with " fearlessness and momentum" – Katie alloch (CBC Jazz Beat & Tonic) . One of CBC Music's picks for the " 35 best Canadian jazz musicians under 35" , he has performed with some of Canada's finest musicians including André White, Joel Miller, Mike Rud and Kevin Dean, who has praised him for his "excellence, honesty and power of emotion."
Kirmayer's 2017 debut O pening Statement, a mixed set of original compositions and well chosen standards, features a strong supporting cast of New York based pianist Sean Fyfe and Montreal stalwarts bassist Mike De Masi and drummer Dave Laing. In a 4 star review, All About Jazz called Opening Statement " strong-minded, well-spoken and worth relishing many more times than once." The album went on to win the Julian Award of Excellence for Emerging Canadian Jazz Artists from CJSF 90.1 FM.
"Kirmayer chose wisely when he picked sidemen for his new project that casts his warm tone and lyrical focus in a different setting… The simpatico and eloquence that they've achieved on High and Low sound like the hallmarks of a seasoned band. " — Peter Hum, Ottawa Citizen ("High and Low" liner notes)
Featuring Ben Paterson (Organ) (NYC) and Dave Laing (Drums)
Combining a joyful swing feel with an impeccable touch, Ben Paterson has quickly established himself as one of the most exciting young pianists/organists on the Jazz scene today, garnering international acclaim for his superb musicianship and engaging performances. Originally from Philadelphia, Ben studied both classical and jazz music before moving to the great city of Chicago, absorbing the unique blend of Jazz and Blues that can only be found in the Windy City. Now based in New York, Ben is poised to bring his unique talents and style to a wider audience, performing regularly at top notch venues around town, and at clubs and festivals around the world. Notable collaborations include work with NEA Jazz Master Von Freeman, Bobby Broom, Johnny O'Neal, Red Holloway, Eldee Young, Jerry Weldon, Peter Bernstein and Ed Cherry to name a few, with performances opening for groups like Steely Dan and B.B. King.
Also on drums, Dave Laing, born in Kitchener Ontario and grew up in a musical family. He was introduced to jazz music by his father and to the drums by his older brother. Dave studied at McGill University in Montreal and began his professional career shortly thereafter. In the past twenty five years he has recorded, toured, and performed with such national and international stars as Jimmy Heath, Junior Cook, Ed Bickert, Denzal Sinclaire, Ben Monder, and Ranee Lee. He currently resides in Montreal where he also teaches at McGill University.
Sam Kirmayer – guitar
Ben Paterson – organ
Dave Laing – drums