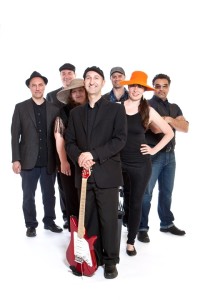 Shine On: the Universe of John Lennon is a spectacular group performing music by John Lennon and the Beatles uniquely arranged by Michael Occhipinti. The musicians in the group collectively boast over 20 JUNO Award nominations, and include the distinct voices of Elizabeth Shepherd, Yvette Tollar, and Dominic Mancuso, paired with the singular talents of Mark Kelso (drums), Kevin Turcotte (trumpet), Roberto Occhipinti (bass), and Michael Occhipinti (guitar). Shine On came together in December of 2010 for a concert to mark the 30th Anniversary of John Lennon's passing. Taking utter delight in the audience's enthusiasm and the chance to work together performing an iconic repertoire, the musicians recorded and released the album The Universe of John Lennon in the summer of 2012, and have since appeared at festivals and venues from St. John's to Victoria to New York.
From the inventive takes on "I Am The Walrus" and "Working Class Hero" featuring Elizabeth Shepherd's cool vocals, to Yvette Tollar's surprising version of "I'm Only Sleeping," Dominic Mancuso's earthy "Instant Karma," and Michael's own creative palette of guitar sounds, The Universe of John Lennon uniquely makes the familiar new. Tracing an arc from Lennon's best work from Beatles's albums such as Revolver and Rubber Soul to his last solo work, Shine On is a genre-crossing group that is a tribute like no other.
Here is the band with John Lennon's "Girl" – Denzel Sinclair on vocais for this version.
Michael Occhipinti – Guitars
Roberto Occhipinti – Bass
Mark Kelso – Drums
Kevin Turcott – Trumpet
Dominic Mancuso – Vocals, Guitar
Yvette Tollar – Vocals
Elizabeth Shepherd – Piano, Vocals