When:
February 2, 2014 @ 7:30 am – 10:30 am
2014-02-02T07:30:00+00:00
2014-02-02T10:30:00+00:00
JUNO-nominated, and Galaxie award-winning musician Shirantha Beddage is a saxophonist, composer and educator from Toronto, Canada. Drawing inspiration from jazz greats such as John Coltrane, Pepper Adams and Thelonious Monk, he is being hailed by critics as a fresh and powerful voice on the baritone saxophone.  His new CD, Identity (Addo Records, 2012) was nominated for Traditional Jazz Album of the Year at the 2013 JUNO Awards.
Shirantha also earned the 2013 Galaxie Rising Star Award at the Montreal Jazz Festival for his compositions "Baker's Dozen" and "Winds of Change", both from Identity. He is also the Director of Theory and Harmony at Toronto's Humber College music program, where he teaches Music Theory, Pedagogy and Big Band.  This performance features Dave Restivo (piano), Mike Downes (bass), Mark Kelso (drums), all of whom performed on his latest album.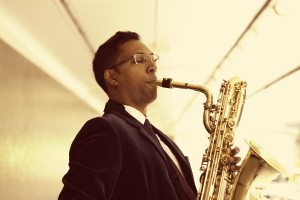 Shirantha Beddage- Baritone Sax
Dave Restivo-Piano
Mike Downes-Bass
Mark Kelso- Drums