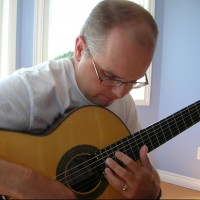 Stephen Zurakowsky (www.anumi.ca) is a graduate from The University of Toronto.
 He has studied with Norbert Kraft, Eli Kasner, David Russell, Stepan Rak and Phil Nimmons.
 He plays composed music in the European tradition, but he is also a brilliant jazz player. Recently he has been awarded an International CD Distribution grant from The SOCAN Foundation, which will oversee the airplay of "Four Trees In Winter" in 135 radio markets worldwide.

Stephen has enjoyed substantial support from the Ukrainian arts community across Canada, having been featured in numerous magazines, newspapers and radio programs. He performs chamber concerts as a soloist and has written works for electric classical guitar and choir. He also swings hard when playing jazz.
A Zurakowsky concert encompasses a sense of deep passion, as you feel invited to experience his love for composing and how his Ukrainian heritage has an influence on his creativity. His music has been featured on Canada's CBC and was reviewed in Toronto's The Wholenote Magazine as a favourable pick amongst classical independents.
Stephen holds the guitar chair in KW's own "Big Band Theory".
This isn't jazz, but an example of how good a player this guy is…."Carol of the Bells"
Guitar – Stephen Zurakowsky
Vocals- Jane Cowan
Saxophone – Ryan Cassidy
Piano- Paul MacLeod
Bass- Greg Prior
Drums – Giampaola Scatozza