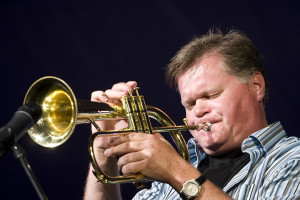 Born in Glasgow, Scotland and raised in Burlington, Ontario, Canada, McDade began playing the trumpet at the age of 12 with the Burlington Teen Tour Band, touring Europe and North America to participate in band competitions, and at just 14 was featured as a soloist at Hamilton Place in Hamilton, Ontario. He played professionally throughout the area after that, and entered the Humber College Jazz Studies program when he was 16 years old.
McDade has been a member of Manteca and The Boss Brass since the 1980′s, touring the world with both bands and playing on their Grammy and JUNO Award-winning recordings. He has performed in major jazz festivals all over the world with Rob McConnell and The Boss Brass and as a member of The Rob McConnell Tentet.
Steve has played and recorded with some of the biggest names, ensembles, bands, and orchestras on the arts and entertainment scene including Ray Charles, Aretha Franklin, Doc Severinsen, Diana Krall, Mel Torme, Ella Fitzgerald, The Toronto Symphony, Manhattan Transfer, and worked and recorded with Doc Kupka of Tower of Power.
Steve McDade–Trumpet
Robi Botos–Piano
Scott Alexander–Bass
Davide Direnzo–Drums
Here is the same quartet at the jazz Room last year with Thelonius Monk's "Straight, No Chaser"