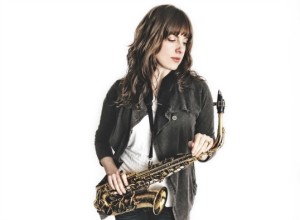 …a fine player with a fertile imagination who most definitely bears watching…" – AllAboutJazz.com
Tara Davidson is regular visitor to the Jazz Room as a sideperson in various ensembles. She played the opening weekend as a member of the Mike Murley Octet. A JUNO Award nominated alto and soprano saxophonist, Tara has performed around the world at such prestigious venues as New York City's Carnegie Hall, the acclaimed North Sea Jazz Festival in the Netherlands, the International Jazz Festival in Lima, Peru, and The Kennedy Center, in Washington, D.C.
(Click here for Terry Pender's exclusive article about, and interview with, Tara Davidson!)
Tara has produced three recordings as a leader since 2003 and performed on over twenty recordings as a side person. Davidson's sophomore CD, "Code Breaking", was nominated for a JUNO Award in 2007 for "Traditional Jazz Album of the Year".  In early 2011 Davidson released her third solo disc, "View", which showcased her evolution as a composer and improviser. At this performance, we will be celebrating the release of her latest recording – "Duets" – which features performances by Laila Biali, David Braid, Andrew Downing, Trevor Hogg, Mike Murley and David Occhipinti.  The Jazz Room show will feature duet performances with Andrew (Bass and Cello), Mike (Saxophones) and David (Guitars) as well as performances by the full band.
Tara's most significant musical influence has been saxophonist Mike Murley with whom she studied for many years. She is a graduate of the prestigious University of Toronto Jazz Performance Program where she studied with other prominent Canadian musicians such as Phil Nimmons, Paul Read, Alex Dean, and Kirk MacDonald.
Tara is an active educator.  She is on faculty at York University, the Humber College Community Music School and the National Music Camp of Canada (Jazz Faculty).
Tara Davidson – Saxophones
Mike Murley – Saxophones
Andrew Downing – Bass and Cello
David Occhipinti – Guitars
Tara plays one of those impossible Keith Jarrett compositions "The Windup" with the band Turboprop