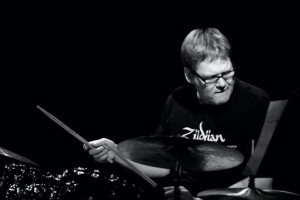 " A ton of fun" – Jaymz Bee
  Ted Warren is one of the most versatile drummers in the country. He's a first call sideman for such esteemed musicians as Keiran Overs, Ted Quinlan and Melissa Stylianou.   Ted was the
last drummer for the legendary Boss Brass and can be heard on six of their CDs, including Velvet and Brass (with Mel Torme), From Lush to Lively (with Oliver Jones), Even Canadians get the Blues, and The Boss Brass Plays the Jazz Classics.
Ted has played on Juno Award winning and Grammy Award nominated recordings (Tales from the Blue Lounge -Richard Underhill and Velvet and Brass – The Boss Brass). He's toured extensively around the world and has performed at Carnegie Hall with Harpist Joanna Jordon.
We've heard him many times at the Jazz Room and his rhythmic support ranges from subtle brushes supporting quiet ballads, to a rumbling thunderstorm behind hard bop. His creativity seems to know no bounds.
  On June 7, he brings his working quartet  – Ted's warren commission – to the Jazz Room.  This band has worked together for almost 20 years and released their first recording in 2004.
Ted Warren – Drums
Mike Downes – Bass
Mike Malone – Trumpet
Ted Quinlan – Guitar