When:
April 20, 2014 @ 5:30 am – 8:30 am
2014-04-20T05:30:00+00:00
2014-04-20T08:30:00+00:00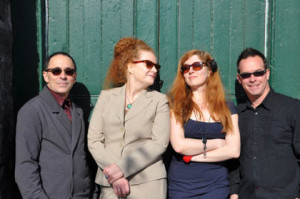 In 1979, Bassist Henry Heillig and  Matt Zimbel formed the legendary nine piece latinfunksalzajazz band Manteca and went on to record 10 albums, win Juno awards, and tour the world's major festivals from Stockholm to the Hollywood  Bowl.  Since that time, he has been busy as musical director for the the Genie and Gemini Awards, touring with Carlos del Junco's Blues Mongrels and generally freelancing on the Toronto scene.
Henry describes the Heillig Manoeuvre  as "A vehicle for sharing music that is both challenging and satisfying without intimidating the audience…contemporary jazz from a songbook, not a doctoral thesis"  This is contemporary jazz that honours tradition  and manages to straddle a fine line: harmonically and rhythmically rich enough to intrigue the more serious jazz listener, it also maintains a level of melodic accessibility and groove to appeal to a more casual listener….smooth jazz with bite.
The rhythm section features drummer Charlie Cooley who was Heillig's  rhythm-mate in Manteca for over 20 years. He's toured with the Guess Who, Prairie Oyster, and Kellylee Evans and he and Heillig have been described as the rhythm section that "plays as one".  Allison Young (Alysha Brilla, Tara Hazelton Swing Band, Big Rude Jake) on saxophone and Pianist Stacie McGregor (Archie Alleyne ) round out the band.
Hear/see Heillig Manoeuvre play their original composition "Nanaimo Crossing"….
http://www.youtube.com/watch?v=TBxJGQsbEZI
 Henry Hellig- Bass
Alison Young-Sax
Stacie McGregor-piano
Charlie Cooley- Drums