When:
February 21, 2015 @ 8:30 pm – 11:30 pm
2015-02-21T20:30:00-10:00
2015-02-21T23:30:00-10:00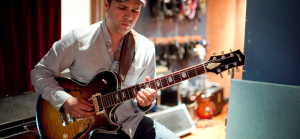 "Captures the listener's ears in a genuine calm while still containing the fiery essence of… Latin jazz…" "Guarna enlightens us with a burning fusion solo… a definite must buy for every jazz fan who wants to listen to new music from a master in his prime"  – Lenny White
"This cat can play anything and is one of those players that merit's the tag 'guitarist's guitarist'. Never too hip for the room or precious for the sake of it, Guarna is on the money throughout taking jazz guitar into tomorrow. Well done." – Midwest Record
Born in Brooklyn, New York, Grammy nominated guitarist, composer and arranger Tom Guarna began his musical training at age 15, when his father introduced him to the guitar. His natural ability to play and compose with phrasing reminiscent of his idols, combined with a relentless drive to invent a unique guitar style has made him a desired commodity in the music industry. He is currently performing and recording with jazz groups internationally, and is first-call on a wide range of projects, from session work, jazz venues, tours, and large arenas.
In 1995, Tom Guarna joined Blood Sweat and Tears and toured extensively for the next three years with that group. Since then, he has forged his own voice as a modern jazz guitarist, performing with a wide range of artists including Wallace Roney, Mark Turner, Branford Marsalis, Stanley Clarke, Randy Brecker, Lenny White, Mulgrew Miller, Billy Hart, Dr. Lonnie Smith,  Les McCann, Gary Bartz, Fred Wesley, Marcus Strickland, Ben Williams, Craig Handy, Uri Caine, The Yellow Jackets, John Benitez,  Billy Drummond, the Mingus Orchestra, The Allman Brothers, Helen Sung, Tessa Souter, Jimmy Herring, Rodney Holmes, Vincent Gardner, George Colligan and Mad Science, and Manuel Valera.
Here are two tunes from Tom's lastest recording  –   Rush  and  Forgiveness
Tom Guarna- guitar
Manuel Valera- piano
Ricky Rodriguez – Bass
E.J. Strickland – drums