When:
November 24, 2013 @ 3:00 am – 4:30 am
2013-11-24T03:00:00+00:00
2013-11-24T04:30:00+00:00
Where:
The Jazz Room @ The Huether Hotel
59 King Street North
Waterloo, ON N2J
Canada

Join us on the stage of THE JAZZ ROOM for a workshop with Manhattan-based jazz flautist Jamie Baum!  Jamie is at once engaging and thoughtful, skills that put her in demand at the Manhattan School of Music. Jamie is well known for a broad ranging workshop series that include insights pivotal to the jazz flute.
For this workshop, Jamie will give us insights into "Creating One's Own Style":
Of course, just like learning any language, a jazz musician must study and mimic "the greats" in order to learn the idiom. This workshop is designed to show the student how to take the next step towards developing one's own style. Through improvisation, listening and analysis techniques of styles and and examining one's influences – students can acquire tools useful for this lifelong pursuit.

You are invited to bring charts of your own compositions for this workshop!  Even better, send us links to your charts for this page!
This Saturday afternoon workshop will include a lecture/demo component geared to complement the evening show.  In addition to the insights and examples of technique, participants have an opportunity to play along with the visiting professionals leading the workshops! The grand finale is a raffle for a one-hour Skype lesson with the leader of the workshop valued at $100!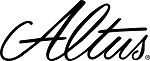 Special thanks to Altus Flutes for co-sponsoring this workshop!
Do I need to be a musician to attend? Should I bring an instrument? What's the sound system like?