When:
September 11, 2015 @ 8:30 pm – 11:30 pm
2015-09-11T20:30:00-09:00
2015-09-11T23:30:00-09:00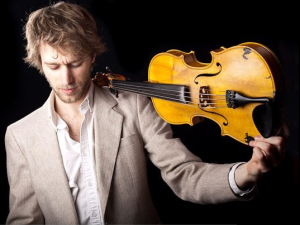 Show update!!  This will be a cross disciplinary artistic performance. We will have visual artist Laurie Wanfor-Nolan painting a mural of the Jaron Freeman-Fox show in real time.
If you missed him last season,  you should take advantage of this opportunity.  Jaron and his band were a big hit with the Jazz Room audience with their mix of jazz, bluegrass and just plain strange stuff..
Bred in the mountains of Canada's rural north-west, Jaron Freeman-Fox redefines what the violin is capable of, and gives you no choice but to take his mutant species of music on it's own terms.  Having produced or played on over 40 albums (Teresa Doyle, Jayme Stone, Autorickshaw) and toured the globe many times over as a solo artist, bandleader or collaborator with artists such as Delhi 2 Dublin, Ben Caplan, and Sam Lee, Freeman-Fox fuses his roots of fiddling and jazz with his musical studies in India, Sweden, and Indonesia, while playing the 5-string violins of his late mentor; fiddle pioneer Oliver Schroder
Folks may be intrigued by the fact that JFF has performed for 100,000 people and the young royal couple on Parliament hill, or that the Canadian Embassy was kind enough (or foolish enough) to send him off to collaborate with a troupe of nomadic Rajasthani gypsies at the Delhi International Arts Festival, or that his first ever album Manic Almanac : Slow Möbius won an Independent Music Award, or that he's shared the stage with Canadian legends Marc Destrubé, Tanya Tagaq, Trichy Sankaran and James Kudelka.  Jaron however, is most proud of the fact that he's broken three different fiddles on stage and zero bones, had his violin stolen by monkeys in Bali and got it back without contracting rabies, and has the honour of featuring his absolute favourite musicians in the world, in his band The Opposite of Everything.
Jaron Freeman-Fox – violin
David Atkinson – accordion/keys
Steven Foster – drums
Alan Mackie – bass
Here is JFF and the Opposite of Everything playing the Tom Waits classic Get Behind the Mule