When:
October 5, 2018 @ 8:30 pm – 11:30 pm
2018-10-05T20:30:00-09:00
2018-10-05T23:30:00-09:00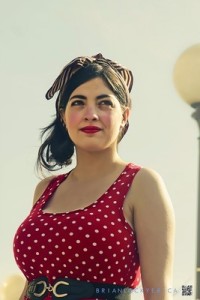 Pazzano shines throughout with energy and luscious tone, as she soars with her quartet. Pazzano possesses a gorgeous, classically trained contralto voice capable of projecting the full gamut of emotions, as well as an uncanny skill with rendering the lyrics of current music, jazz standards and show tunes."
–Lesley Mitchell-Clarke, The WholeNote Magazine (December 2017 Issue), reviewing album "You're Gonna Hear From Me"
Described as a performer who "has her audience enthralled throughout the entire show" (Thornbury Paper), and a musician who sings as if she is "reciting poetry" (Meaford Express), Mary-Catherine Pazzano is a jazz vocalist based in Kitchener, Ontario. Mary-Catherine's performance highlights include headlining: Uptown Waterloo Jazz Festival, The Rex (Toronto), Jazz Bistro (Toronto), The Jazz Room (Waterloo), Manhattans Music Club (Guelph) and The Registry Theatre (Kitchener). She has also toured New Zealand as lead vocalist, and has been a soloist with the Kitchener-Waterloo Symphony. Mary-Catherine has shared the stage with jazz notables Mark Eisenman and Pat Collins, as well as the world-class chamber ensemble Penderecki String Quartet.
Mary-Catherine has also made a name for herself in smaller pockets of Ontario, as a regular at Collingwood's Jazz at the Library Series and a headliner with the Canadian Big Band Celebration (Port Elgin).
Mary-Catherine completed her Bachelor of Arts in Music and Drama from the University of Waterloo in 2010, as well as her Bachelor of Education from University of Toronto in 2012. Shortly thereafter, she focused her attention to a performance career.
When Mary-Catherine isn't performing, she is committed to using her performance experience in an educational capacity. She operates a voice studio, and is Founder and Artistic Director of Jazz in the Schools, a program dedicated to bringing music education to high school students in need of a creative outlet. She also founded and directs Jazz for Adults, a program designed for older adults to realize their passion for singing and playing jazz in a collaborative, encouraging atmosphere.
Mary-Catherine released her debut studio album, "You're Gonna Hear From Me" on October 27, 2017, on the label Glorious Feeling Records. The album contains original songs, material from the Great American Songbook, and lesser known jazz standards. The album has received radio airplay on JazzFM, CBC, community and commercial radio stations across Ontario, Québec, British Columbia, Saskatchewan, and nationally syndicated U.S. shows in Florida, California, and Minnesota. Songs from the album have also been added to CBC's worldwide Jazz Songbook Stream on cbcmusic.ca. The album received a rave review in the December issue of The WholeNote Magazine.
Mary-Catherine Pazzano, Vocals
Jason Hunter, Tenor and Soprano Sax
Don Buchanan, Piano
Pat Collins, Bass
Steve James, Drums
This performance is part of the WOMEN IN JAZZ SERIES, sponsored by DIVA INTERNATIONAL, makers of the Diva Cup.