When:
October 5, 2018 @ 8:30 pm – 11:30 pm
2018-10-05T20:30:00-09:00
2018-10-05T23:30:00-09:00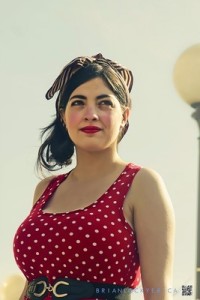 "As impressive as these artists were…  it was singer Mary-Catherine Pazzano who truly stole the show. Whether she was scatting her way through a fast number or slowing things down for a powerfully belted tune, Pazzano had the audience enthralled throughout the entire show. Her performance was probably best summed up in the quiet moments that occasionally appeared between the notes, when the room sat in anticipation of her next line – completely silent and breathless."  – Jon Svec: Reporter, Thornbury Paper
A jazz vocalist from Kitchener-Waterloo, Mary-Catherine has been described as a rising star of the Canadian music scene (kwjazzroom.com). Since her childhood, Mary-Catherine's passion has been singing and performing jazz standards. She loves exploring the endless repertoire of the Great American Songbook, and making the sublime lyrics her own with a nostalgic, yet modern, flair.
Performance highlights include a jazz tour in New Zealand in July 2014, the 2013 Uptown Waterloo Jazz Festival, annual concerts at Kitchener's Registry Theatre, and performances at high-profile jazz clubs such as Toronto's The Rex and The Jazz Room in Waterloo.
Mary-Catherine has been extremely blessed to play with some jazz notables, including her bass player Mike Grace (who has performed with the likes of Dave Brubeck, Mel Tormé and Rosemary Clooney). Mike and Mary-Catherine perform frequently as a bass/voice duo.
Mary-Catherine was a soloist with the Kitchener-Waterloo Symphony in 2010.
A firm believer in spreading the "jazz gospel", Mary-Catherine has chosen to use her qualifications as on Ontario Certified Teacher to teach children and adults out of her private voice studio. Committed to quality public music education, Mary-Catherine also teaches jazz workshops and school jazz programs in local high schools.