When:
September 21, 2018 @ 8:30 pm – 11:30 pm
2018-09-21T20:30:00-09:00
2018-09-21T23:30:00-09:00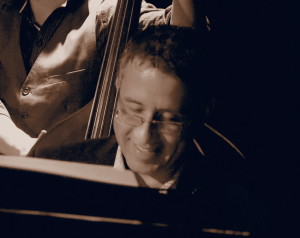 Robert C. Fekete is a Canadian Jazz pianist and composer who shares his musical philosophy with others through performance and audio recording. His roots are planted firmly in classical and jazz traditions; however he aspires to build a bridge between modern popular music and older musical art forms without losing his focus on the relevance and necessity of art in the world. Robert recognizes the importance of recruiting young people to the jazz art form. He conveys this message through his musical compositions and when he performs live.
Robert has been performing and composing professionally since 1989.
Robert is a Mohawk College music program Alumni.
Robert also finished an undergrad, teachers college, and a Master of Music degree from the University of Toronto.
He currently teaches at Mohawk college and McMaster University in Hamilton, Ontario.
Laura McNabb is a recent graduate of McMaster's Music Cognition program, during which time she had the opportunity to study jazz voice with Rob Fekete. A performer at heart, she has helped to establish an a cappella community at McMaster, starting 3 performance groups with singers from various academic and professional backgrounds. She co-chaired  the second annual Canadian A Cappella Conference (CanACC) and led Macappella to the quarter finals of the International Championship of Collegiate A Cappella (ICCAs) in both 2017 and 2018. Laura has spent this summer performing in the Riversong Festival in Parry Sound under the direction of Brenda Muller. She is looking forward to starting her graduate studies with the Ontario Institute for Studies in Education (OISE) at the University of Toronto, where she will prepare to teach Music and French at the intermediate-senior level.
Hamilton-born Tenor and Soprano Saxophonist and multi-instrumentalist Mike Filice graduated from The Humber College Jazz Program in 1991.Following a brief tenure in Toronto, Mike moved to New York City in 1997 where he studied with saxophone legend Dave Liebman and began a diverse freelance career performing with, among others, Bill Stewart, Kenny Werner,Dominic Duval, recording with John Ballantyne and Carlos Darosa and accompanying luminaries like Aretha Franklin and Diana Ross.
Resettling in Toronto in 2008, Mike continues to distinguish himself as one of Canada's most adventurous improvisers, nourished and inspired by his love of world music, classical music and the Avant Garde. Among his many talents, Mike is also known as one of North America's leading woodwind technicians owning and running his own shop, and earning the trust and respect of a diverse clientele that includes Brandford Marsalis and David Liebman.
Clark Johnston started his professional career as a bassist in 1994 and has since had the opportunity to work with the likes of Peter Appleyard, Gene DiNovi, Reg Schwager, Don Thompson, John Sherwood, The Mike Malone Jazz Orchestra, as well as the Darcy Hepner Jazz Orchestra–just to name a few. He holds a master's degree in music composition from York University and is currently on faculty at Mohawk College and McMaster University.
Dave O'Neill is a performer and educator of all things musical. He has toured Eastern Canada and parts of the U.S., performed at numerous venues, music festivals, theatre productions, conducted clinics, workshops, does motivational speaking, and has extensive experience in the recording studio. Dave has taught privately for the last thirty years, spent four years on the part time music faculty at Mohawk College, and is a supply teacher for the Waterloo Region District School Board. He is endorsed by Headhunters Drumsticks. Dave holds B. Ed. from OSIE/U. of Toronto, a B. Mus. in Jazz Performance from U. of Toronto, as well as a Dipl.Mus. from Mohawk College. He has studied with drummers Bob McLaren, Barry Elmes, Ernie Porthouse, John Cheeseman, and Memo Acevedo.